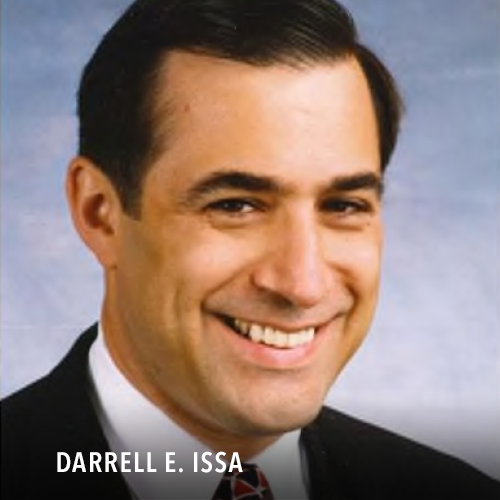 DARRELL E. ISSA
REGULAR DIVISION 2019

Born November 1, 1953 in Cleveland, OH (the second of six children) Darrell E. Issa is a businessman and Republican politician. In 1970, on his 17th birthday, Issa dropped out of high school and enlisted for three years in the Army. He became an Explosives Ordinance Disposal (EOD) technician.
Issa received a hardship discharge from the Army in 1972 (his father had suffered a heart attack) and earned a General Educational Development (GED) certificate. lssa attended Siena Heights University, a small Roman Catholic college in Adrian, MI. Later, while getting a BA Degree Kent State University at Stark, he enrolled in the Reserve Officer Training Corps and was commissioned a second lieutenant. He served in the Army Reserves from 1976 to 1980 and was promoted to the rank of captain.
After leaving the military, Issa and his wife Kathy, moved back to the Cleveland area where their son William was born. They pooled their savings to invest in Quantum Enterprises, an electronics manufacturer that assembled bug zappers, radio parts and various consumer products for other companies.
Issa later purchased a struggling auto security company, turned it around and became a supplier to Ford as well as producing a proprietary line of automotive security products. As car theft rose in the 1980's, so did the demand for security devices. Toyota, Jaguar, BMW and General Motors joined Ford as customers. Issa sold the company to a California-based maker of home alarms, moved to Vista (where they has lived ever since) to work for the company.