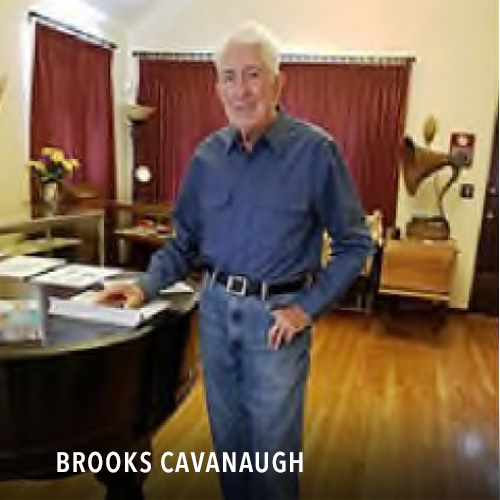 BROOKS CAVANAUGH
REGULAR DIVISION 2018

Brooks was born and raised in Upland, California. In 1955 his family moved to Costa Mesa where he graduated from Newport Harbor High. At Orange Coast College he studied engineering and architecture. In 1970 a City Planner job opportunity arose at the City of Vista. Brooks was hired when the population was just 17,000.
In 1975 the Thibodo family offered to annex approximately 900 acres to Vista, now known as Shadowridge. Brooks began processing the annexation but left the city in 1976 to work for CM Engineering, the lead engineering firm for the annexation.
In 1978, Brooks as a member of the Vista Chamber of Commerce Action Committee proposed annexation of an additional 1,200 acres south of Shadowridge. The city consented and 15 major property owners supported the annexation and rezone to a Research Light Industrial Park now known as the Vista Business Park.
In 1976 The County Land Use Council was formed with the purpose of protecting private property rights. Brooks became its first executive director.
In 1980 Brooks established Land Planning Consultants to assist property owners in development studies and governmental processing. This local Vista business has been in operation almost 40 years.
Brooks was instrumental in the formation of the South Vista Business Park improvement district in 1986. The district purpose was the building of necessary infrastructure including roads and utilities. Sycamore Road, Business Park Dr, and Poinsettia are just a few of those roads. The owners invested over 8 million dollars and was completed in 1988. For the next 20 years, Brooks consulted with over 30 owners providing development plans for use of their business park land.
Brooks and Attorney David Larkin along with the assistance of several other local Vistans formed The Vista Conservancy in early 2000. The Vista Conservancy mission is to preserve environmentally sensitive lands. Along with the City of Vista, today you can walk from the Rancho Vista Adobe to Brengle Terrace Park. Brooks was instrumental in its formation and is still actively involved.
Brooks also chaired the 1996 down town Vista citizen's planning committee which provided direction for the Vista Village Plan. In 2008 Brooks served on the city redevelopment planning and development committee helping to identify areas such as South Santa Fe needing economic stimulation for redevelopment. Since 2006 Brooks has consulted to the Vista Fire Protection District. He has assisted the district in creating 6 North Vista emergency evacuation roads.
Brooks and his first wife Joan raised 3 children in Vista, Christa, Jolean and Daniel. There are now 13 grandchildren and 2 great grandchildren. Today, Brooks and Stephanie continue to work and live in Vista and enjoy the grandchildren!